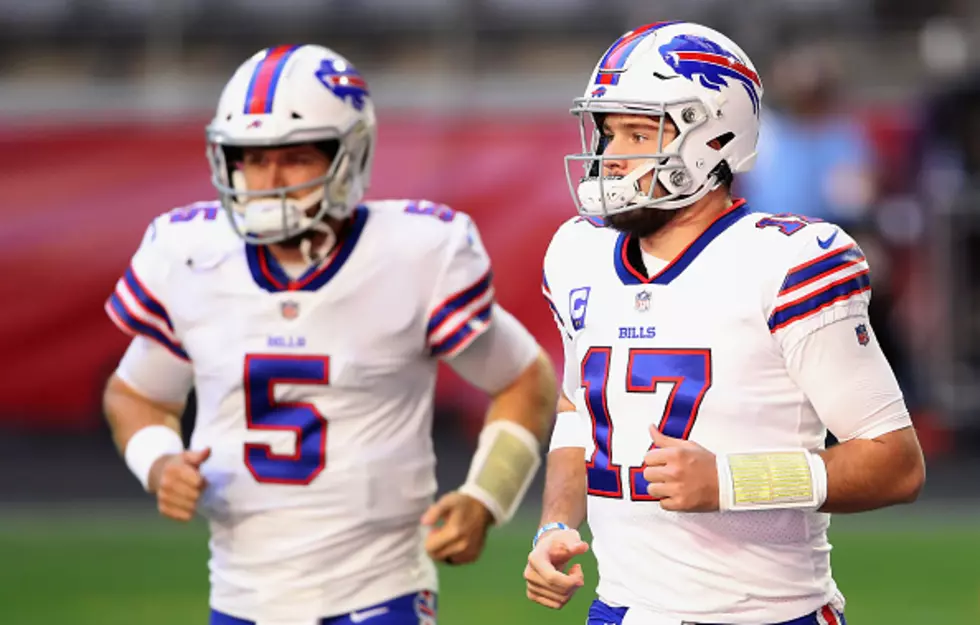 Josh Allen and Matt Barkley Win The Internet [PHOTO]
Getty Images
The Buffalo Bills currently have one of the most likable teams in recent memory. Being arguably the best team in the NFL has a lot to do with that, but it also has to do with the players on the team.
The Bills have so many likable players on the team.
Stefon Diggs is one of the most popular players with Bills Mafia. Not only has he produced on the field, but he also has been great off the field, along with social media.
Obviously, Josh Allen is the most popular player on the team and is growing into a professional sports icon.
One of Allen's best friends on the team is backup quarterback, Matt Barkley, who was re-signed by Buffalo in 2022, after not being on the team in 2021.
Barkley was with the Bills from the middle of the 2018 season through 2020 and has been fully embraced by Buffalo.
This past week featured media day at One Bills Drive, which is where players pose for photos in their Bills uniforms.
Allen and Barkley posed for a pretty memorable photo, which is taken right from the movie, 'Step Brothers.'
Barkley is wearing number 11 because his previous number 5 is taken by wide receiver and kick returner, Marquez Stevenson.
Barkley will be the third-string QB behind the newly acquired quarterback, Case Keenum.
It's unlikely that Barkley will be active for game days (barring injury), but his presence is felt in the locker room and meeting rooms.
15 Things You Should Never Do at a Bills Home Game
Things that are a no-no to do at a Buffalo Bills home game.
Check Out The 11 Most Underrated Bills Defensive Players In The Past 30 Years
I wanted to comb past the amazing defenses the Bills have had over the past 30 years and put the spotlight on some stellar role players who help lead the team to the playoffs and beyond. We are talking about players that maybe didn't get lots of love from the National media or made tons of Pro bowls, but we were still proud that they were part of the team.
Check Out The 11 Most Underrated Bills Offensive Players In The Past 30 Years
The Buffalo Bills have has some amazing players over the years. We all know the superstars so we wanted to put the role players in the spotlight with this list.