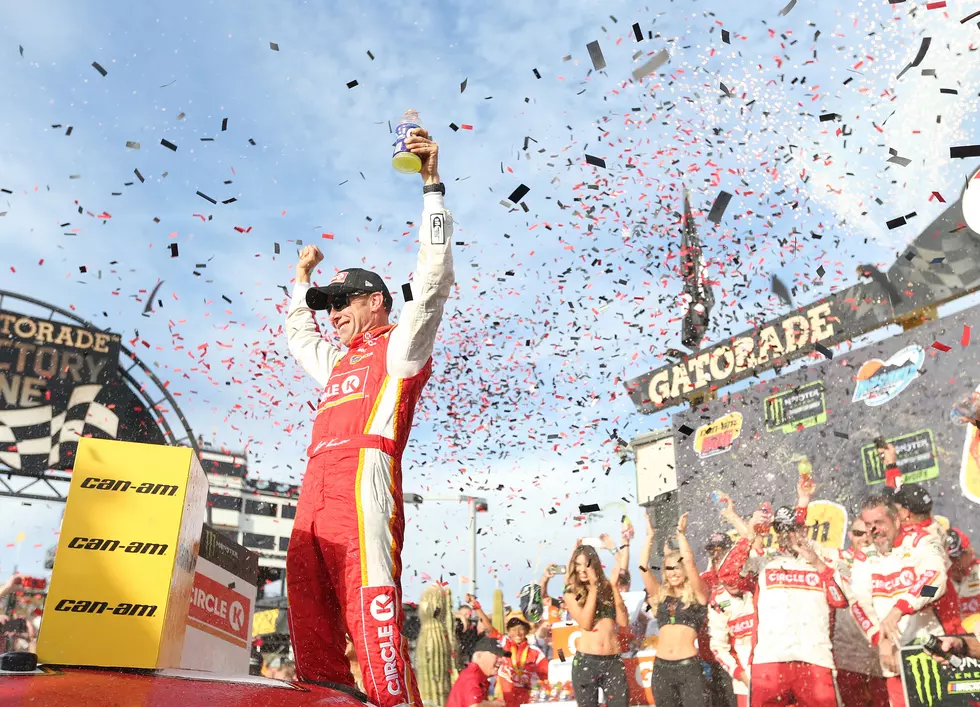 Kenseth Wins At Phoenix, Cup Final Four Set
Matt Kenseth celebrates his victory at Phoenix (Getty Images)
Despite finishing 16th, Brad Keselowski emerged as the last of the four drivers who'll compete next week for the title based on points. 
Keselowski will join Kyle Busch who won at Martinsville, Kevin Harvick who won at Texas last week and Martin Truex, Jr. who clinched a spot last week based on points. Denny Hamlin, Chase Elliott, Ryan Blaney and Jimmie Johnson were eliminated.
In his next to last career race Matt Kenseth emerged the winner at Phoenix after a number of cars dropped out after crashes.  Chase Elliott and Denny Hamlin renewed their rivalry and this time it was Hamlin who ended up in the garage.  Two weeks ago it was Elliott who was forced off.
Elliott had the lead late in the race at Phoenix and if was able to hold on he would have made it to the Final Four, but Hamlin's car was too strong and Elliott had to settle for second place yet again and ended up fifth in the Final Four standings.
Following Kenseth and Elliott, Martin Truex, Jr., Erik Jones and Kevin Harvick completed the Top 5.
So the season and the season championship comes down to one race next Sunday at Miami-Homestead.  Of the four contenders, only Truex has never won a Cup championship.  Harvick, Busch and Keselowski each have won one.