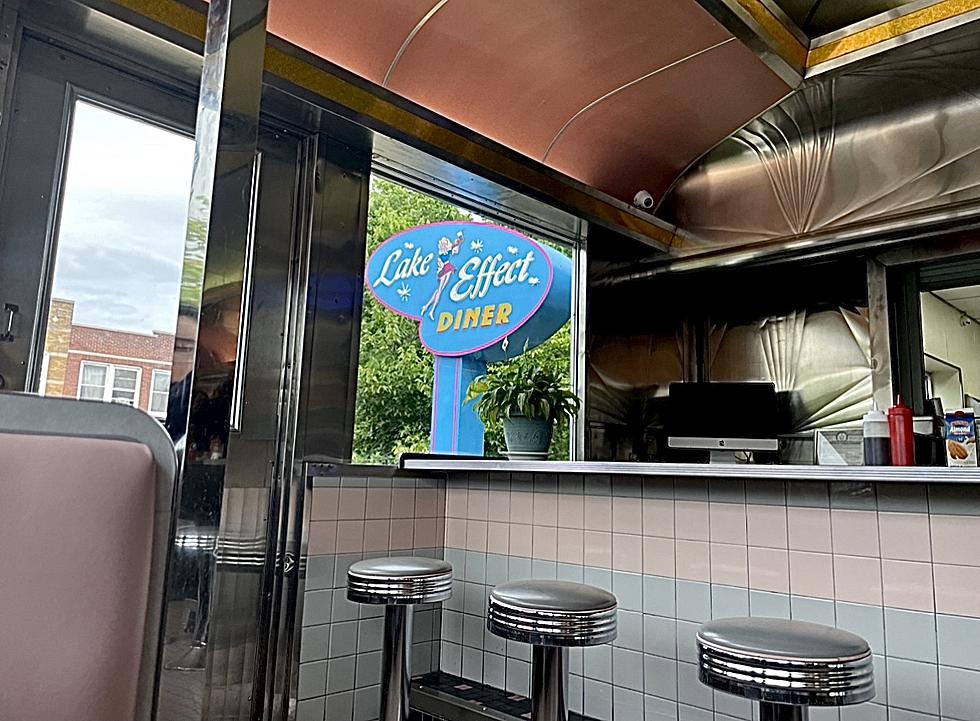 One Of A Kind Restaurant Plans To Return To Buffalo, New York
Credit: Kadie Daye
We are just as shocked as you are about this announcement! A one of a kind restaurant is planning to re-open in Buffalo, New York, and we are counting down the days until we are able to dine in once more! 
There's only a few of these that exist in the United States, and one of them is returning to Buffalo, New York!
Listen to Clay & Company, Every Weekday Morning on 106.5 WYRK
That's right – we said returning! This restaurant was a favorite by many before it closed in August 2021, and now – nearly 2 years later – it's expected to reopen.
What Restaurant Closed?
The Lake Effect Diner, one of the last few dining car-style diners left in America, permanently closed its doors in Buffalo on Monday, August 16, 2021. 
The diner first opened in Buffalo, New York back in 2002, almost 400 miles away from its home of 50 years (when it was originally known as "The Wayne Diner"). Tucker Curtin and his wife, Erin, had brought the Lake Effect Diner to life in Buffalo nearly 20 years ago. 
Tucker said, "I wanted to bring authenticity to Buffalo, a piece of Americana. Something unique."
One customer said about the diner, "It filled a niche that the city of Buffalo was missing when it first opened."
What Food Is Available At The Lake Effect Diner?
The Lake Effect Diner has been very established over the years, offering breakfast and lunch options along with their delicious milkshakes. They served Coca-Cola products, and they even had a spiked root beer drink on the menu. 
It is a classic, and the diner's classic outer appearance maintained it as such. Before the pandemic, the diner operated with 24/7 service and was favored by college students in the area, as the University of Buffalo was only a walking distance away. 
Now it's planning to reopen again – two years to the date of it closing in 2021. 
When Does Lake Effect Diner Reopen?
You can eat in at the Lake Effect Diner again starting August 16, which is the two year anniversary of the day that it closed in 2021. Now, they are using the day to kickstart their grand reopening!
This Diner Has Received National Attention
Food Network's Guy Fieri even stopped in Buffalo to visit the Lake Effect Diner as part of his television program, "Diners, Drive-Ins, and Drives". 

To remind customers of the present and future that Guy Fieri stopped in for a bite to eat, Fieri spray-painted his mark on a section of the diner's stainless steel wall behind the front counter. 
Why Did They Close In 2021? 
After speaking with Tucker Curtin, one of the co-owners, he told me two years ago that one of the biggest reasons the diner had to close was "due to a shortage of employees," so if you are looking for work, the Lake Effect Diner would love to have you!
What was your favorite part about the Lake Effect Diner? Share your pictures and memories with us at WYRK. 
15 Of The Best WNY Diners That You MUST Try
Did your go-to diner make the 15? What would you add to the list? Email
kadie@wyrk.com
.
7 Photos Of The Last 24/7 Diner In Western New York
After the COVID-19 pandemic reached the United States, many 24 hour hotspots shortened their business hours, but perhaps the one restaurant that kept up its 24 hour history is Jim's Family Restaurant in Cheektowaga.
10 Amazing New York State Restaurants on Diners, Drive-Ins and Dives
These are some of the best New York State restaurants ever
featured
on Diners, Drive-Ins and Dives with Guy Fieri.