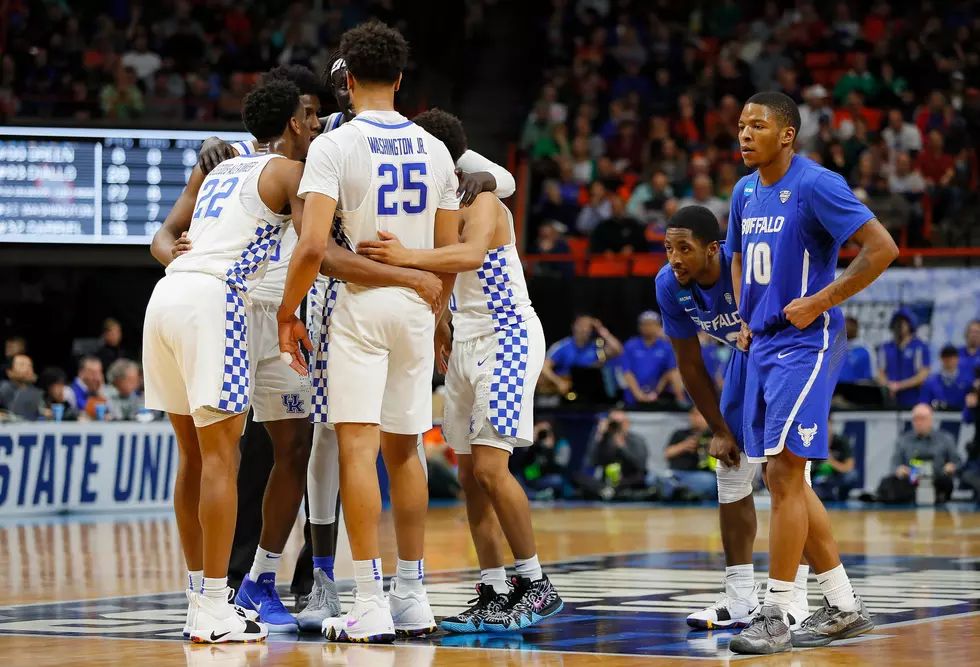 NCAA Basketball Tournament – UB Men Fall, UB Women Advance
It was a tough night for the UB Bulls against Kentucky while the UB women won in a rout (Getty Images)
Both the University of Buffalo men and women were in action on Saturday in the NCAA Basketball Tournament with the men being eliminated, but the women won their first-round game against the higher seeded South Florida Bulls.
The University of Kentucky was just much for the UB men's team, pulling away in the second half for a 95-75 win.  The Bulls just couldn't get their shots to drop like they did two nights before against Arizona.  Guards Wes Clark and C J Macklinburg again the led the way.  Clark with 26 points while Macklinburg accounted for 18.
The 3's that were so effective in Thursday night's win over Arizona just didn't happen against Kentucky.  The Bulls missed their first seven 3-point attempts and ended up only 7 of 31 for 23 percent from 3-point range.
So a good season comes to a sad end, but there's nothing but optimism in this team's future with an effective coach signed to a 5-year extension and with a good showing in the NCAA Tournament it bodes well for recruiting.
Just as the men made noise with a huge upset on Thursday, the 11th seeded UB Women did the same by knocking off 6th seed South Florida in a rout 102-79.  And just like the men's squad, the women's team was led by their guards.  Cierra Dillard put up an incredible career high 36 points while Stephanie Reid had 19.
And just as the men had made history two days earlier, it was the U-B women's first-ever victory in the NCAA Tournament.  They now advance to Monday's game against Florida State.