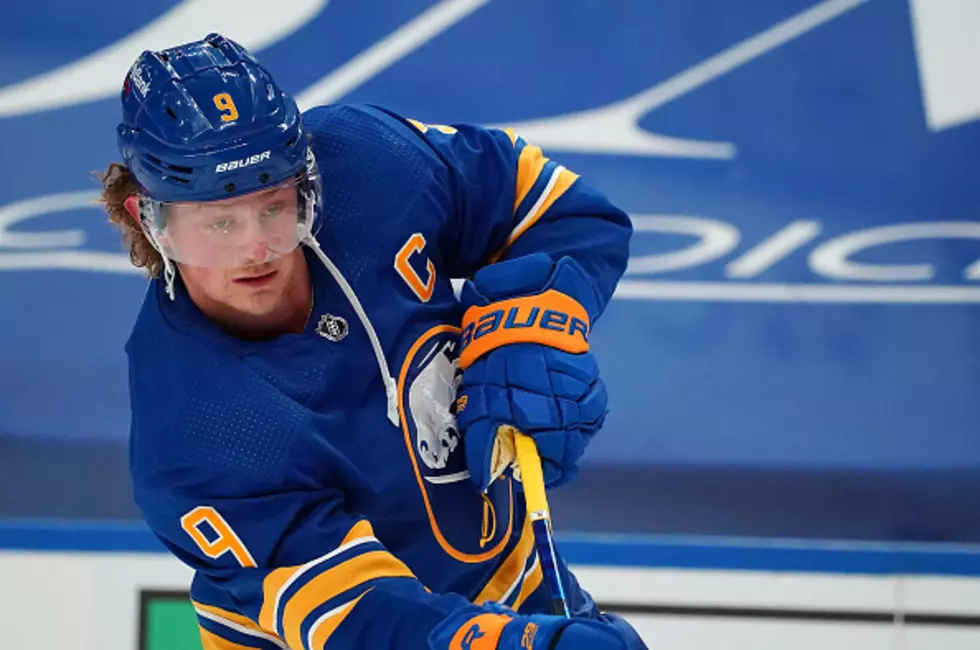 Report: Buffalo Sabres Could Very Soon Be Trading Jack Eichel
Getty Images
The Buffalo Sabres are just over a week away from the start of the 2021-2022 regular season. They host the Montreal Canadiens at the KeyBank Center next Thursday evening at 7 pm.
A player who will not be on the ice for Buffalo that night is former captain, Jack Eichel.
Eichel failed his training camp physical with a neck injury that caused him to miss most of last season. He's currently in a much-publicized dispute with the Sabres over both playing for thee Sabres and which surgery he should get on his injured disc in his neck.
Eichel and his medical team prefer to get an artificial disc-replacement surgery, while thee Sabres medial team wants him to get a disc-infusion surgery.
Eichel would also like to be traded to another team, but the compensation and the cloud of uncertainty regarding his injury has made it very difficult for that to happen. However, the end may soon be in sight.
Darren Dreger of TSN is reporting that the trade discussions have "shifted" and teams inquiring about Eichel have gotten additional access to medical files, which has accelerated the process.
Dreger adds that there is hope that something can be worked out soon with one of the teams talking to the Sabres about Eichel.
It's likely to assume that general manager Kevyn Adams still wants a top prospect and current players in a trade for Eichel; along with a first-round draft pick. It would be an interesting time to trade Eichel right now, since the season starts in a week.
Still, Eichel and the Sabres would prefer this situation to be over as soon as possible, but Adams still wants the best possible deal for one of the top players in the NHL.
22 Famous Buffalo Sports Phrases Every Die-Hard Bills and Sabres Fan Knows
Being a sports fan in Buffalo is sometimes like knowing a different language. Here are 22 of our favorite Buffalo sports phrases you already know if you're a huge fan! And if you're new here, here's how to catch up.
Explore The Most Gorgeous Log Cabin "Mansion" In New York State
This $1.7 Million Home In Clarence Will Blow Your Mind
Step inside this amazing home
for sale
in Clarence.