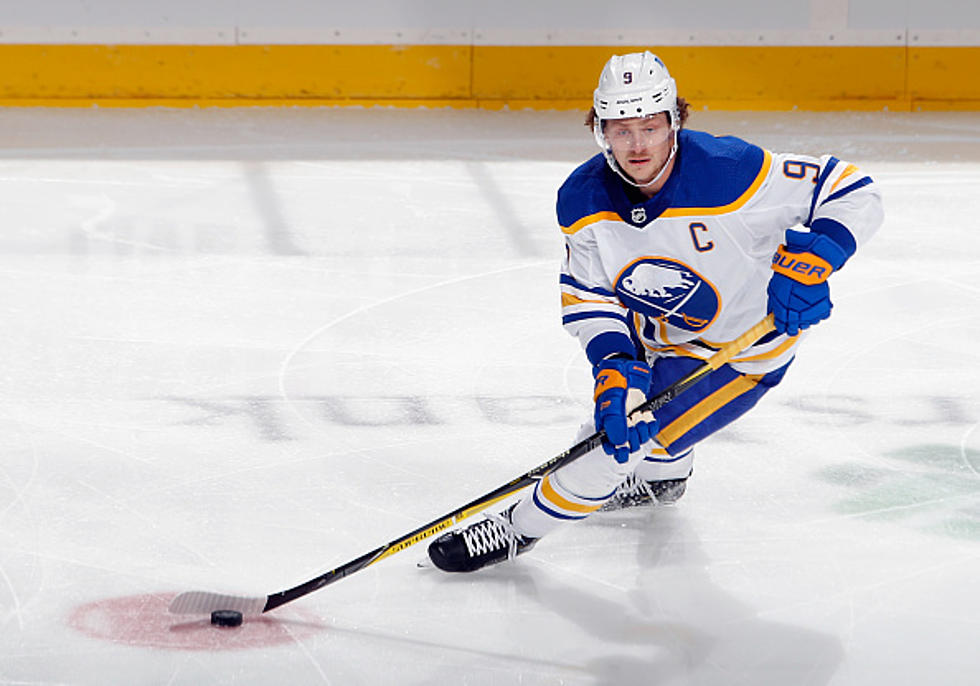 Reports Say The Sabres Could Have Gotten More For Jack Eichel [TWEETS]
Getty Images
For the past six months, Buffalo Sabres fans, along with the entire NHL, has been on "Jack Eichel" watch. That in regards to when Jack Eichel would have traded from the Buffalo Sabres.
Eichel had let it be known he wasn't happy in Buffalo and the fact that he and the Sabres disagreed which surgery should he get on his injured neck; fusion (which the Sabres wanted) and artificial disc replacement (which Eichel wanted).
On Wednesday evening, reports indicated that trade talks were in the home stretch and early Thursday morning, the trade was finally completed.
The Sabres traded Jack Eichel and a 2023 third-round pick to the Vegas Golden Knights, in exchange for forwards Peyton Krebs, Alex Tuch, a 2022 top-10 protected first-round pick, and a 2023 second-round pick.
The trade looks similar to what was leaked out there a couple of weeks ago, and on the surface, looks like a decent return.
However, there are indications that the Sabres return could have looked very different.
Greg Wyshynski of ESPN says that he talked with a few NHL executives, and they say that the return would have been more if the Sabres had retained salary on Eichel's hefty contract.
NHL reporter John Shannon says that the Sabres were insistent on not retaining salary and were looking for futures (picks and prospects).
This may go in line with the report from former NHL goaltender and current ESPN and TSN analyst, Kevin Weekes' report from last night that the Calgary Flames' tabled offer was forward Matthew Tkachuk, a former first-round pick (unnamed player), a future first-round pick and two prospects.
That trade offer seems better than what the Sabres ultimately got. It's main piece, however, is Tkachuck -- a 24-year-old current first line player; rather than Peyton Krebs, a 20-year-old prospect.
Maybe Calgary was a chess piece for a Vegas trade. Or, perhaps the Flames wanted the Sabres to retain a portion of Eichel's salary and that's why Eichel isn't a Flame this morning.
Peyton Krebs was drafted 17th overall in 2019 by Vegas and is considered a fast-skating playmaking forward. He has zero goals and one assist in 13-career NHL games so far.
Alex Tuch is currently injured, but the hope is he's back before the New Year. He was the 18th overall pick in the 2014 draft. The 25-year-old forward is a fast skater who was on pace for 25 goals in a shortened season in 2021. He scored 20 goals two seasons ago. Tuch is a nice second line player.
The key to this deal is Peyton Krebs. If Krebs turns into a good first line player, the trade is a success for the Sabres; and that's not even taking into consideration the first-rounder Buffalo got next year (assuming it's not a top 10 selection).
But if Krebs doesn't turn into something, then this trade looks pretty bad. It's clearly a gamble on both ends, because Eichel has to come back from his neck surgery, but it appears the return could have looked very different if the Sabres decided to retain salary.
Buffalo Sabres Captains Since 2000
Buffalo Sabres Goalie Masks
TACKLE THESE: Check Out the Best Uniforms In Each NFL Team's History
The 100 Best Places to Live on the East Coast