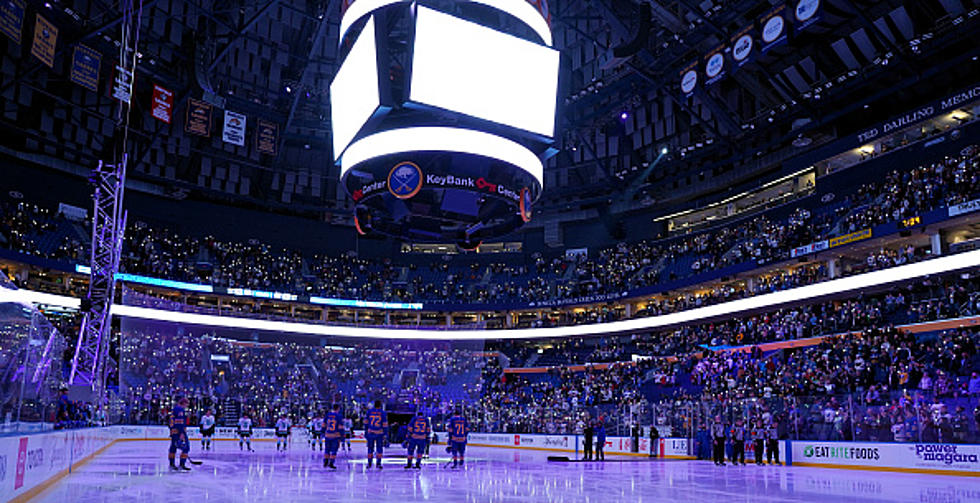 NHL Officials Blow Call That Costs The Buffalo Sabres a Win [WATCH]
Getty Images
The Buffalo Sabres played a rather lackluster game against the Ottawa Senators on Thursday night at KeyBank Center. It was a 3-1 loss and ended up being one of the deadest atmospheres of the season in the arena.
Saturday afternoon was not that kind of game at all. It was one of the most entertaining games of the season.
The Sabres hosted the Colorado Avalanche at KeyBank Center on Saturday, but while the game was as entertaining as can be against one of the best teams in the NHL, it ended on a sour note for Buffalo fans.
The game was tied 3-3 midway through the third period, when Sabres defenseman Rasmus Dahlin was literally wrestled to the ice by Avalanche defenseman Jack Johnson.
Dahlin had not gotten to the puck yet. It was a clear interference call that the NHL officials simply blew.
As fate would have it, the Avalanche went down the ice and scored a goal second later, off the stick of Alex Newhook.
How in the world was this not called a penalty, NHL?
It was pointed out on Twitter by Chad DeDominicis that Colorado forward Mikko Rantanen slowed down after the Johnson tackle, almost expecting a call to be made...but it never was.
The NHL's officiating is not good. It's been that way for years.
Calls are missed and that's fine, but this was not only clearly a penalty, it happened going towards the puck, which means the referees should have been looking directly at it.
The NHL should come out with an explanation. It won't change the outcome, but this deserves some accountability.
The silver lining is Tage Thompson continues his breakout season for Buffalo. He scored a hat trick on Saturday and is now on pace for 35 goals this season.
Former Buffalo Sabres Player Sells Million-Dollar Clarence Home
One of the key players on the Buffalo Sabres 1999 playoff run, Richard Smehlik, is
selling
his Clarence home.
22 Famous Buffalo Sports Phrases Every Die-Hard Bills and Sabres Fan Knows
Being a sports fan in Buffalo is sometimes like knowing a different language. Here are 22 of our favorite Buffalo sports phrases you already know if you're a huge fan! And if you're new here, here's how to catch up.
CHECK IT OUT: 100 sports records and the stories behind them