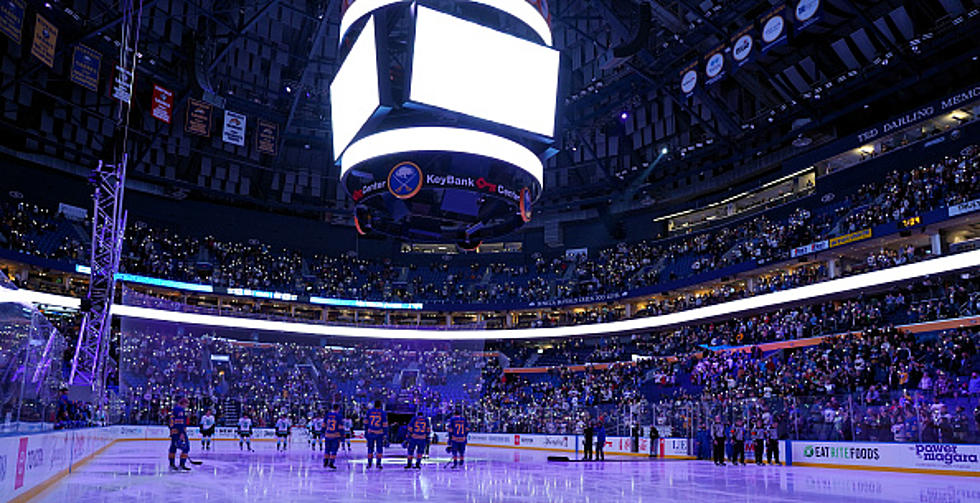 Sabres New Ticket Package Making News on Social Media [TWEET]
Getty Images
The Buffalo Sabres are hanging on for dear life to stay in the playoff hunt through the New Year, but it will be a tough task. The Sabres are 12th in the Eastern Conference and sixth in the Atlantic Division with 19 points through 22 games.
The Sabres biggest struggle has been goaltending, as starter Craig Anderson has been hurt, which means Dustin Tokarski and Aaron Dell have shared the load, with average to bad results.
Still, there are some bright spots in the Sabres play, like Tage Thompson and Dylan Cozens.
Thompson leads the Sabres with 10 goals in 22 games, while Cozens has six goals and 12 points through 22 games, with some really impressive moments.
The Sabres struggle to get fans inside KeyBank Center is a real concern, as they are dead last in the entire NHL in average attendance. So, the Sabres are trying a new deal on fans and introduced it this afternoon on social media.
The new ticket package says if you buy a ticket to three games, and the Sabres win those three games, you will get a free ticket to another game. If the Sabres happen to win that game too, then that means another free ticket, and so on.
The ticket package is called the "Let It Ride."
The obvious joke fans are making on social media is the fact the Sabres don't win that often and what are the actual odds they will win the three home games you purchase?
It's solid effort for creativity, but would you risk it with this deal?
Former Buffalo Sabres Player Sells Million-Dollar Clarence Home
One of the key players on the Buffalo Sabres 1999 playoff run, Richard Smehlik, is
selling
his Clarence home.
Buffalo Sabres Goalie Masks
Take a look at some amazing Goalie Masks in Buffalo Sabres history.
Buffalo Sabres Captains Since 2000
The Top 30 Beef on Weck Restaurants In WNY
The 30 best places for beef on weck in Western New York.