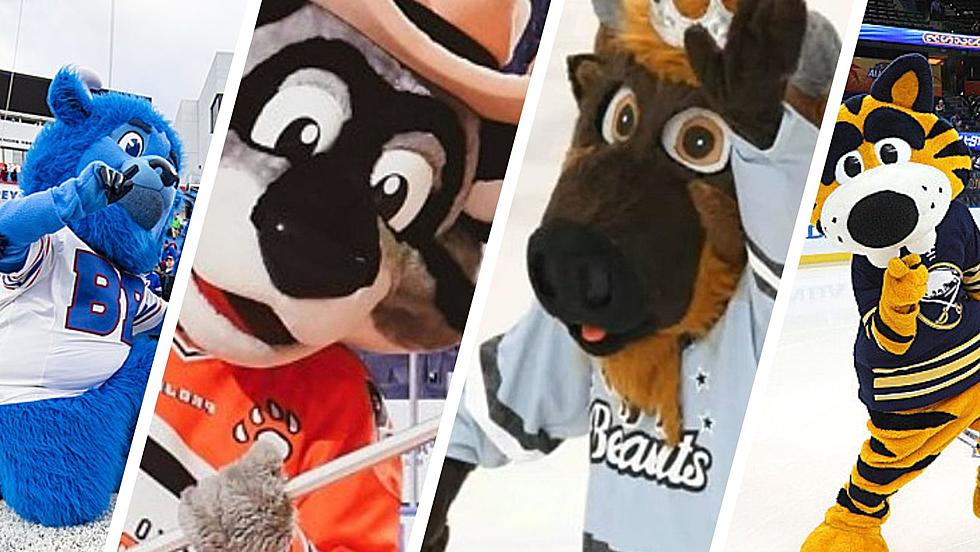 Professional Team In Buffalo, New York Changing Their Mascot
Photo Credit; Canva Image, Getty Image
Next time you go to a hockey game, you may notice a new addition to your team. 
Listen to Clay & Company On 106.5 WYRK
A new mascot!
The Buffalo Beauts made history when they were the first professional women's hockey team in the NWHL to introduce a mascot back in 2016.
Their first-ever mascot was a buffalo who goes by the name of "KRUSHER." 
KRUSHER flexed a silver crown on top of its head and wore a Beauts jersey, but now it looks like KRUSHER has passed the torch to the next mascot.
Bleu C. Beaut, otherwise known as Bleu for short, was selected as the new mascot after the team looked at a bunch of suggestions. 
Camryn Fioriani is the one who came up with the name, and after a series of fan voting, it became one of the top choices.
After looking at the remaining options, it was a clear choice to select Fioriani's suggestion.
After 7 years with the same mascots, the Beauts decided it was time to switch it up, but what is the significance behind Bleu's name?
Bleu's name is representative of "a commonality among Buffalonians and the manner of spelling shares similarities with the word 'Beaut,'" GM Nate Oliver told WGRZ. 
It's no secret that the Buffalo Beauts have #BuffaloPride. After all, they sport the Flag of Buffalo on their emblem. 
And when you think about how much we love Bleu cheese, it's kind of a no brainer.
Top 10 Most Underrated Buffalo Sabres of All-Time
22 Famous Buffalo Sports Phrases Every Die-Hard Bills and Sabres Fan Knows
Being a sports fan in Buffalo is sometimes like knowing a different language. Here are 22 of our favorite Buffalo sports phrases you already know if you're a huge fan! And if you're new here, here's how to catch up.
Top 5 Candidates to Become Next Sabres Captain
The top 5 players who could be named the next Buffalo Sabres captain.