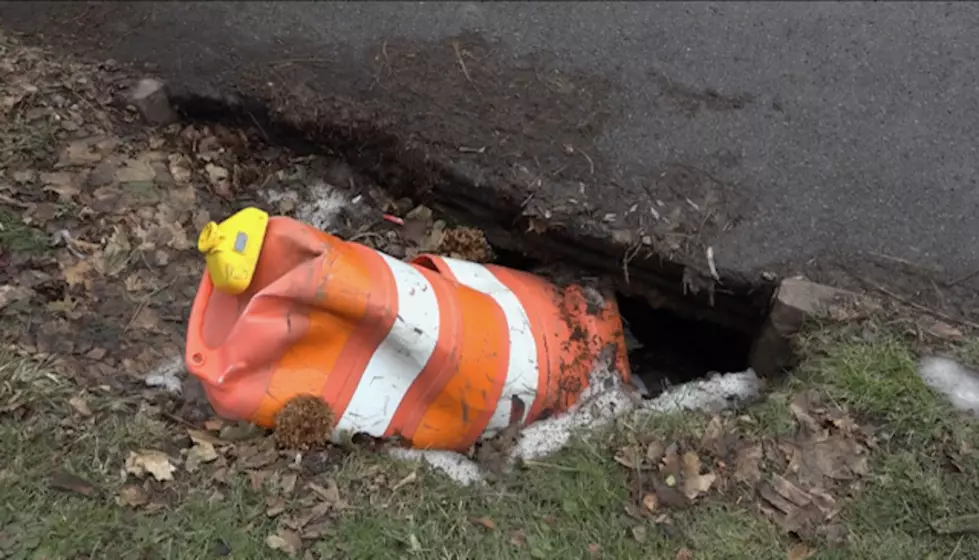 Western New York Residents Concerned About A Sinkhole
Photo Credit: 2 On Your Side
The sinkhole has been around for three years and counting, and it's not exactly getting smaller. 
Listen to Clay & Company On 106.5 WYRK
How many times have you been on a walk and the sidewalk was covered in ice, so you had to veer off the path into the grass?
Imagine if, with one unfortunate step, you fall into the ground abruptly, and there's nobody there to save you?
That is exactly what could happen if this sinkhole continues to develop at the rate it has been for the last few years. 
The sinkhole is located on Norwood Avenue, according to social media posts from Elmwood Village residents, and residents in the Elmwood Village Facebook group have said that they have filed complaints in hopes that the sinkhole will be fixed. 
But nothing has been done. 
One resident said, "I've called the Department of Public Works and 311 multiple times, as have many of my neighbors. It's huge, and someone is going to fall in it one day!"
However, according to the Common Council Member David Rivera, he told local news station 2 On Your Side that his office hasn't received any complaints and he was unaware of the problem. 
When they got a closer look at the sinkhole, Common Council Member David Rivera concluded that the hole is "a result of problems with a sewer line involving a duplex."
City officials via the 311 line said that the sinkhole was reported multiple times, but unfortunately, the Department of Public Works isn't necessarily responsible for fixing the hole, as it's not city responsibility. 
If you have driven by Norwood Avenue, you may have noticed that there was a temporary fix made to the hole. The Department of Public Works placed a heavy sheet of metal across the hole and two orange cones surrounding the hole. 
10 Buffalo-Themed Gifts Your Valentine Will Love
Show some Buffalove this Valentine's Day with one of these Buffalo gifts you can get locally at small businesses throughout Western New York
8 Unconventional Date Ideas For Valentine's Day In WNY
New York Towns That Are Perfect For Valentine's Day
Valentine's Day is coming this weekend and there are some perfect towns and cities in New York to celebrate in.