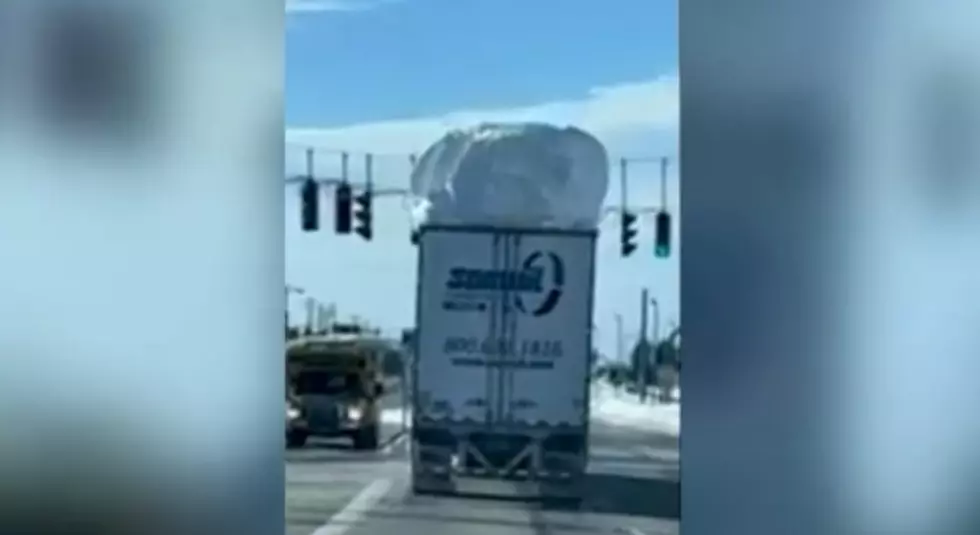 Semi-Truck Takes Down Several Stop Lights In Western New York
Photo Credit: Anonymous Eyewitness
We have seen some crazy things in Western New York as a result of the latest snow storm, and this one just may take the cake. 
Listen to Clay & Company On 106.5 WYRK
When you are pummeled with 6 feet of snow, it can be rather difficult to clear all of that snow off the top of your car. Yes, you should clear your car of snow before you drive, as it can become hazardous for other drivers (even if you can see), but not everyone does that.
And it became quite evident on Monday afternoon after one eyewitness filmed a video of a semi-truck passing through Western New York.
The truck must have been caught in the snowstorm, and as a result, you could see approximately 3 feet of snow on the top of the semi. 
Adding 3 feet of additional height to a semi-truck can make it pretty difficult to go under any overhead clearance bar.
And that, unfortunately, includes traffic lights. 
An anonymous eyewitness sent a video to Pete Gallivan, a reporter at WGRZ, that showed a semi-truck knocking out a streetlight near Genesee St. in Cheektowaga, NY. 
You can watch that video below. 
Gallivan reported on 2 On Your Side's Daybreak that the anonymous source informed him that in total, that semi-truck went on to take out 6 stop lights. 
If you see a light out on Genesee Street, they may still be working to fix the damage. 
8 Things You Will See In A Buffalo Snow Storm
Check off how many of these things you saw during the most recent Buffalo snow storm. Did you get them all?
During a Buffalo snow storm, you will see...
16 Best Bars in Buffalo for the Night Before Thanksgiving
The best bars for "drinksgiving" in Buffalo and Western New York.
Kadie's Kalendar - 11/25-11/27
There are so many fun things happening on Thanksgiving weekend in Western New York, and here are the top 10 events.