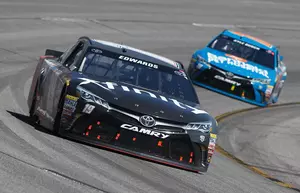 Carl Edwards Bumps Kyle Busch Out of the Way to Take Richmond
Carl Edwards used a last lap pass to beat Kyle Busch at Richmond International Speedway (Getty Images)
Make it two straight wins for Carl Edwards thanks to an incredible pass on the final lap.  Edwards tapped teammate Kyle Busch out of the way on the final turn and sprinted to the finish line for an improbable victory.  It's the first time in the history of the 3/4-mile Richmond Speedway that a driver won a race with a pass on the last lap.
Busch appeared to have had the race won.  He took the lead with 36 laps left and he kept Edwards in his rearview mirror lap after lap until he got the white flag and for some reason his car seemed to slow down.  Edwards dove to the inside and got to Busch's door on the first turn, then nudged him out of the way on the final turn.
The result leaves both Edwards and Busch along with Jimmie Johnson each with two victories this season.  But Edwards takes over the points lead 7 points up on second-place Kevin Harvick.
Jimmie Johnson finished third followed by Kasey Kahne and Harvick in the Top 5.  Denny Hamlin and Matt Kenseth finished sixth and seventh giving Joe Gibbs Racing four cars in the Top 7.
After sitting out the first eight races of the season recovering from a back injury, Tony Stewart started 18th and finished 19th.
26 cars finished on the lead lap and all 40 cars were running at the end of the race.
After a stretch three short tracks in the last four weeks the series moves on to the circuit's longest track; Talladega next Sunday.