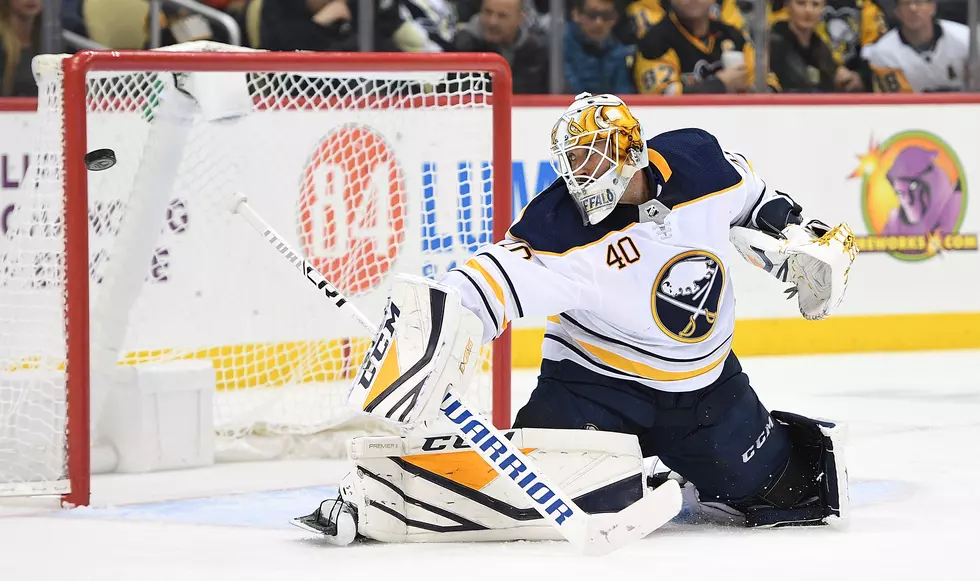 Sabres Get Outworked in Loss To Carolina
Carter Hutton had a tough night in Carolina in a 4-3 loss (Getty Images)
There are games when a team plays well and loses.  And there are times when they play poorly and win.  Friday night in Carolina the Buffalo Sabres just didn't put in the effort and deserved to lose to the Hurricanes 4-3.
It didn't help that three of the four Carolina goals went in off Buffalo Sabres defensemen; two sticks and a skate.  But that was more than just bad luck for the Sabres.  Carolina outworked the Sabres and made those situations happen.
Carter Hutton had a tough game in goal giving up four goals on 29 shots.  The puck just wasn't bouncing his way especially with Sabre sticks and skates making it a tough night for him.
Jeff Skinner scored on the power play in his first game back to Carolina after his offseason trade.  On the same day he was voted into the All Star game, Skinner scored his 30th goal of the season.
Jason Pominville and Johan Larsson scored Buffalo's other goals.  Pominville's was his first goal in 18 games.
Sabres are back home Saturday night to host the best team in the league - the Tampa Bay Lightning.