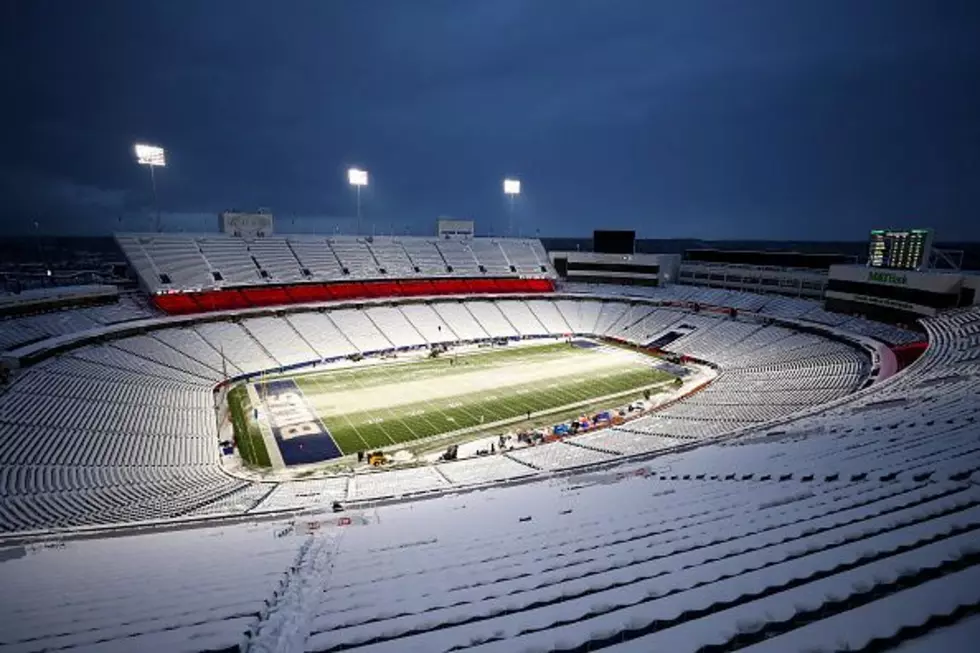 Here's How They Deice Highmark Stadium In Buffalo, New York
Getty Images
The Buffalo Bills will play the Cincinnati Bengals this Sunday at 3pm at Highmark Stadium in Orchard Park, New York. The weather forecast is calling for some snow and colder air to move in for the game this Sunday.
The fans of the Buffalo Bills are no strangers to snow and cold. If you ask die-hard fans, they will tell you that some of the most exciting games were in near blizzard conditions. But how do crews prepare for 60,000 fans and workers? It takes a big effort.
Prior to the Buffalo-Miami playoff game, truckloads of water and salt are combined and pumped in to the stadium with multiple hoses. Individual workers spray the mixture on the concrete to melt the ice and snow and help to expedite the drying of the concrete to make it as safe as possible. It takes approximately 4 hours per side if the stadium to complete the deicing.
Deicing Highmark Stadium In Buffalo, NY
This weekend's game is going to be exciting to say the least. Most NFL fans, and even those who are not sports fans, recall the previous match-up that was halted after the injury to Buffalo Bills safety, Damar Hamlin. Damar is recovering well and the game was named a "no contest". This Sunday's game is another chapter in what has been a storybook season for the Buffalo Bills.
Regardless of the past, this game is huge for both teams as the winner moves on the AFC Championship game and the losers head home. Thank you to all of those behind the scenes whoa re getting the stadium ready.
KEEP READING: Scroll to see what the big headlines were the year you were born
Here's a
look at the headlines
that captured the moment, spread the word, and helped shape public opinion over the last 100 years.
The Best Tracy Lawrence Song? Here Are His Top 20 Hits and Deep Cuts
Tracy Lawrence has been a pure country hitmaker for 30 years. Here are his best songs, including many of his eight No. 1 hits, plus his CMA and ACM Award-winning collaborations and so many more from his deep catalog.