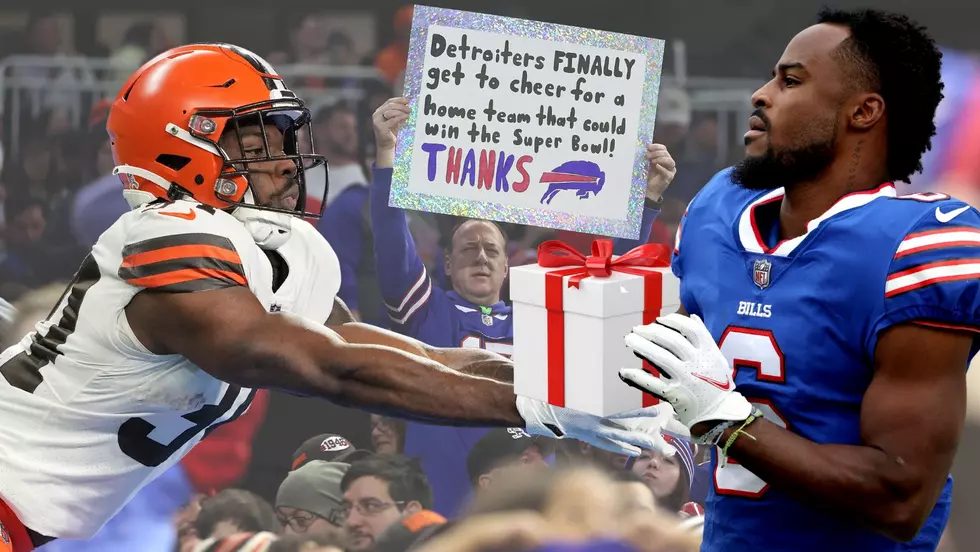 Buffalo Bills Left A Great Parting Gift For Detroit Lions
Photo Credit: Getty Image, Canva Image
Many Bills fans were waiting on the edge of their seat as to whether or not the Sunday football game would be moved to Detroit. 
Listen to Clay & Company On 106.5 WYRK
At around 4 PM on Thursday, the Buffalo Bills announced that the game would be moved to Detroit.
"Due to public safety concerns and out of an abundance of caution in light of the ongoing weather emergency in western New York, Sunday's game against the Browns will be moved to Ford Field in Detroit."
However, when you are "house sitting," per say, there are a few things that the "homeowner" may request during your stay. 
While at Ford Field, the Detroit Lions tweeted at the Buffalo Bills a few pre-game announcements. 
"Important numbers are by the phone, lock up when you leave, and please don't break the tables."
Ahhh….that last request can set any Bills Mafia member in mental turmoil. 
But upon leaving Ford Field (only to return in just a few days), the Buffalo Bills left the Detroit Lions a parting gift, if you will.
They honored Detroit's big ask: "please don't break the tables."
"Left the tables intact for Thanksgiving dinner."
It was funny to watch the playfulness between the Detroit Lions and the Buffalo Bills on Twitter last week.
One person said that it seemed like Buffalo and Detroit were "good frenemies," and I think that's a good way to put it!
We'll see how things shake out on Thanksgiving Day. The Buffalo Bills travel to Detroit to take on the Lions at 12:30 PM, and you can watch the game on CBS and Paramount+.
Let's go, Buffalo!
EXTRA: New Music Video Created During The Snowstorm Features Bills Mafia 
The Amount Of Forecasted Snow Is Taller Than These Buffalo Bills
Southtowns Lake Effect Snow Pictures
16 Best Bars in Buffalo for the Night Before Thanksgiving
The best bars for "drinksgiving" in Buffalo and Western New York.